Umbraco Leeds Meetup Summary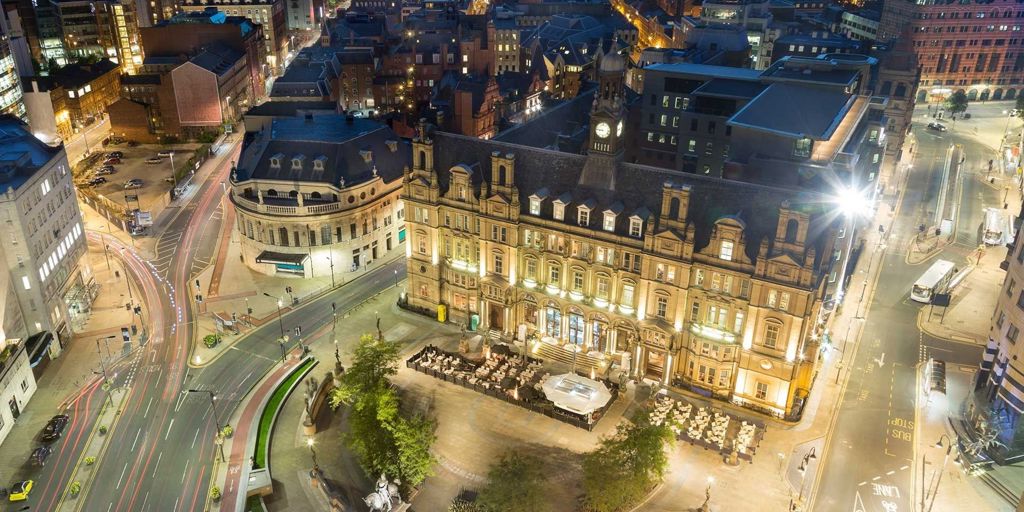 So yesterday was finally the day for my presentation at the Umbraco Leeds Meetup about "Getting started with Unit Testing in Umbraco".
An amazing 73 people had signed up to the event on Meetup.com which was really nice to see and it proves that it's a topic a lot of Umbracians are curious about.
I had a really great time and I hope everyone who joined in also did. The meetup started with some discussions around community activities and news before my presentation which was supposed to be 45 minutes followed by a 10 mintes break, but I ate the entire break because I had so much I wanted to cover in my talk. (My bad!)
Here are some of the slide from yesterday in case you didn't attend but you're curious what it covered: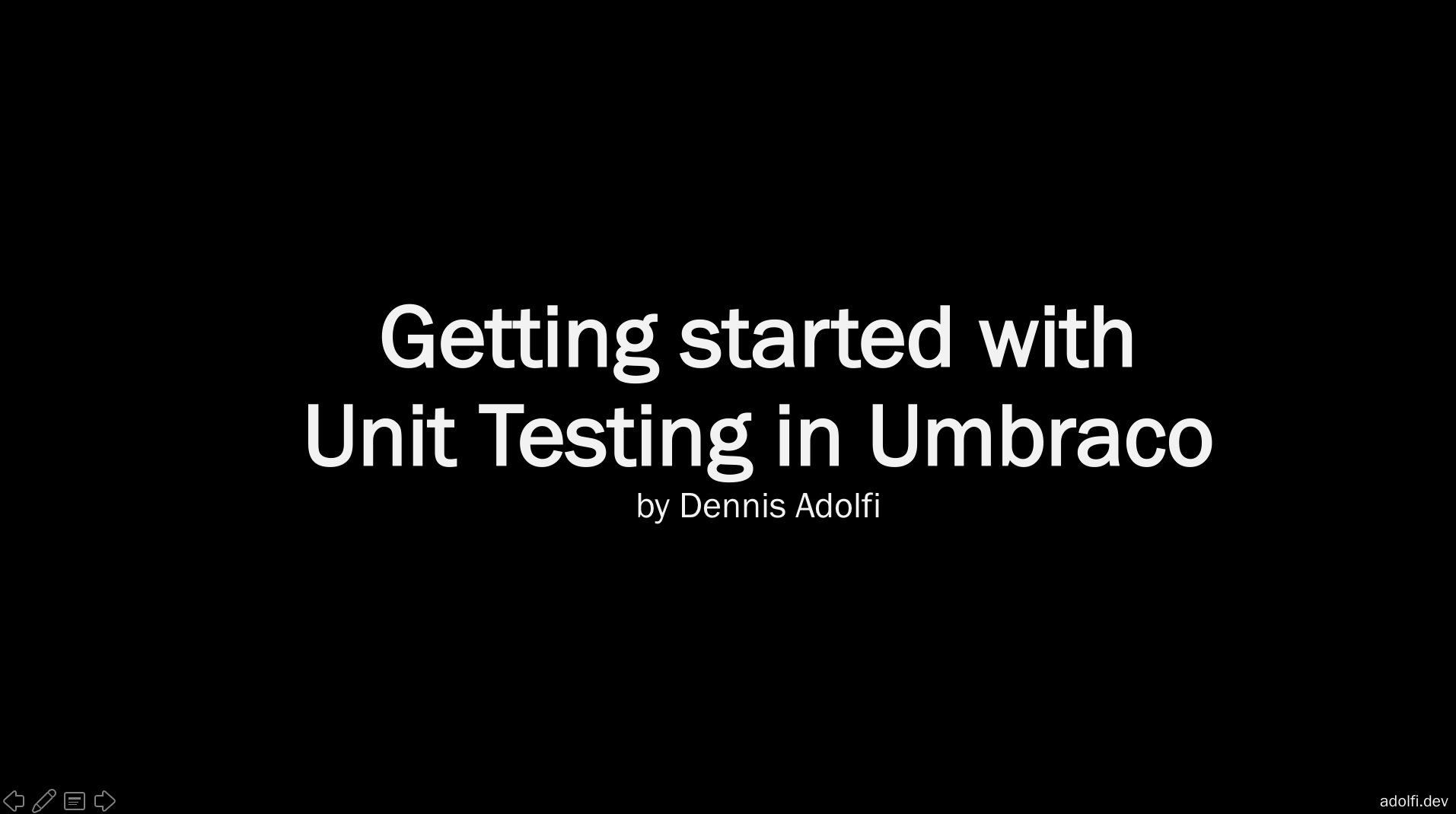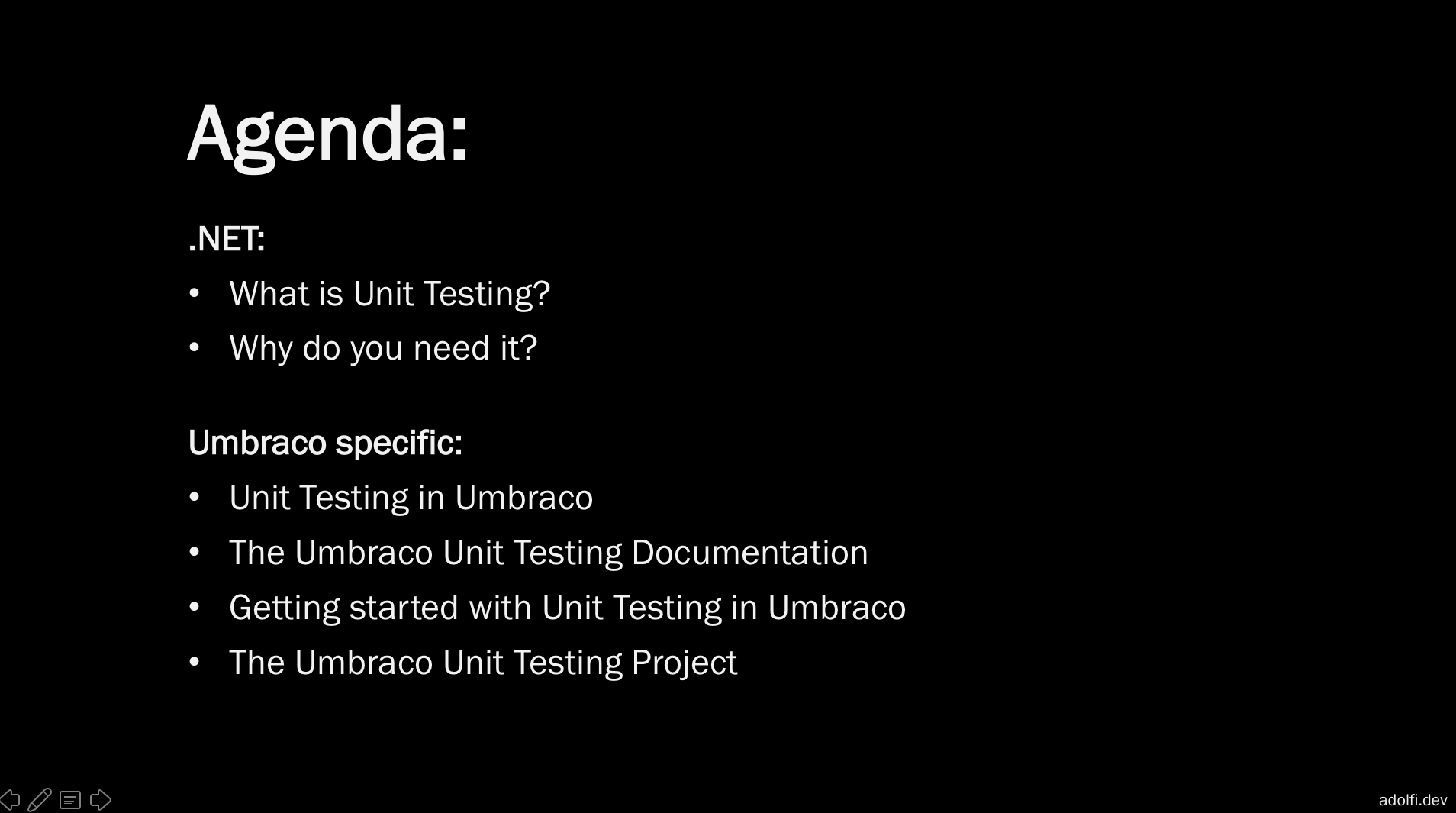 Sorry for not recording the presentation! The reason for not recording it is because I've submitted this same talk to Codegarden 2021 (and maybe some other meetups this year) so putting it publicly available on YouTube it would loose its "exclusiveness" and might risk it being accepted to Codegarden. (There's no need to go see a talk that's already available on YouTube I guess.)
But I promise, if it is not accepted to Codegarden (or any other meetup) I will record it from home and put it on YouTube for everyone to see. 
The response so far have been great, sooo many lovely Umbracians have reached out to me on DM:s and Tweeting nice things about the presentation! ❤️
Excellent talk by @dadolfi on Unit Testing in #umbraco! #h5yr

— Poornima Nayar #MVPBuzz (@PoornimaNayar) April 6, 2021
Thank you for a really good talk 🙏 #h5yr

— Rachel Breeze 🏊‍♀️👩‍💻 (@BreezeRachel) April 6, 2021
Excellent talk Dennis! And excellent discussion after making my head spin 😅 // @bleedo

— Sebastiaan Janssen (@cultiv) April 7, 2021
Was a great talk, thanks and #h5yr

— rsoeteman (@rsoeteman) April 6, 2021
A huge thank you to everyone who came and added to the discussion. You are the best!
Cheers! ❤️
Me, after agreeing to do a meetup talk:
-"Why am I doing this to myself?"

Me, after completing a talk:
-"Why don't I do this to myself more often?"

Thanks everyone who joined my talk yesterday. ❤️
This truly is the best community and it was sooo nice to see all of you! #Umbraco

— Dennis Adolfi (@dadolfi) April 7, 2021